BIOWOOD SERVICES LTD
Wood Recycling Service
---
Is fed through a shredder and is used for various purposes. All of our wood waste which is mainly arisen from construction and demolition sites is fed through the shredder then screened.
This is done so that the wood can be made to a size that meets the customers' requirements. Sizes we can produce are:
The main specification that the Biomass Plants use is 100mm to 10mm, with the minus 10mm material being used for animal bedding.
REQUEST A CALL BACK
Want to enquire about our Wood Recycling service here at Biowood Services Ltd? Fill in the form below and one of the members of our team will be in touch with you shortly after.
---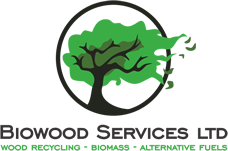 ---
SO, WHAT DO WE DO...?
---
We at Biowood Services Limited offer wood recycling, biomass and alternative fuels and green waste.
Take a look on the right for more information on our services and click on the images for more in-depth details.